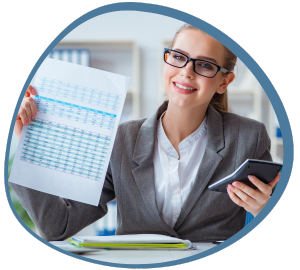 A Foreign Worker's Guide on Accounting Jobs in Canada
👩🏼‍💼 Types of Accountant Jobs in Canada for Foreigners
There are many types of accounting jobs in Canada for foreigners. The most popular include:
🏘️ Public Accounting
🏢 Corporate Accounting
🏛️ Government Accounting
🏘️ Public Accounting
These accountants provide services such as auditing, tax preparation, and consulting.
🏢 Corporate Accounting
🏛️ Government Accounting
Most accountants in Canada work full time during regular business hours. Some positions may require overtime hours during busy periods, such as tax season or the end of the fiscal year. Many employers offer flexible working arrangements, such as telecommuting or part-time schedules.
✔️ Benefits of Working as an Accountant in Canada
🥇 Top Accounting Firms in Canada
There are many top accounting firms in Canada that provide excellent opportunities for foreigners looking to get into the accounting field. Many of these firms have global operations and are always searching for talented individuals to join their team.
A few of the top accounting firms in Canada include:
These firms offer a wide range of services including auditing, tax, and advisory. They also have a strong presence in both the public and private sector.
Take Note: If you are interested in working for one of these firms, it is important to research each firm thoroughly to find the one that best suits your skills and interests.
The Big Four accounting firms (Deloitte, KPMG, PricewaterhouseCoopers, and Ernst & Young) all have offices in Toronto, making it a great city to start your job search. Many of these firms also have graduate programs that offer foreign students the opportunity to work in Canada for a period of time before returning home.
If you are not sure where to start your job search, you can easily start your journey with the help of a job search expert before heading to your local Canadian embassy. They will be able to provide you with valuable resources and advice on how to get started.
🔎 Job Search Experts: How Can They Help You Apply for a Job in Canada?
If you're looking for accounting jobs in Canada, you may be wondering if working with a job search expert can help you with your application. Here's what you need to know about how these experts can help you apply for a job in Canada.
When it comes to finding accounting jobs in Canada, working with a job search expert can be extremely helpful. These experts can assist you with your:
Resume
Cover letter
Mock interviews

so that you're as prepared as possible when applying for jobs.

Assistance in connecting you with accounting firms that are hiring in Canada.
They may also have insider knowledge of upcoming job openings and can help ensure that your application is submitted before the competition.
Overall, working with a job search expert can give you a significant advantage when applying for accounting jobs in Canada. If you're serious about landing a position in this field, it's definitely worth considering enlisting the help of an expert.
📕 Is accounting a good career in Canada?
There are many reasons to pursue a career in accounting in Canada. 
The Canadian economy is doing well, and there is a growing demand for qualified accountants. The Canadian Institute of Chartered Accountants (CICA) reports that there's been a shortage of 30,000 accountants in Canada throughout 2020 to 2023.
Accounting is a stable and secure profession. It is not prone to the ups and downs of the economy, as people will always need accountants to manage their finances. 
Accounting is a well-respected profession that offers good job security and high salaries.
🧮 Is it easy to get an accounting job in Canada?
If you're a foreigner looking to get an accounting job in Canada, don't despair. While it may not be as easy as getting a job in your home country, there are steps you can take to increase your chances of being hired by a Canadian company. Here are some tips:
💰 How much are accountants paid in Canada?
In Canada, the average yearly salary for an accountant is $41,946 CAD, which is about $3,495 CAD per month. Of course, salaries will vary depending on experience, education, and location.
For example, an experienced accountant in Toronto can expect to make much more than an entry-level accountant in a small town.
📍 Which province in Canada is best for accounting jobs?
When it comes to accounting jobs in Canada, the province of Ontario is by far the best option. This is because Ontario is home to the majority of Canada's major businesses and financial institutions. 
As a result, there are a large number of accounting firms and organizations headquartered in Ontario.
If you are looking for an accounting job in Canada, your best bet is to start your search in Ontario. There are many reputable accounting firms located in the province, and you will have a good chance of finding a position that suits your skills and experience.
Applying and landing accounting jobs in Canada is as hard as you would imagine it to be and as easy as you can make it. You just need to be aware of what paths you have to take and what options you should explore! In Canada, becoming an accountant is a luxury that is well worth the difficult procedure!