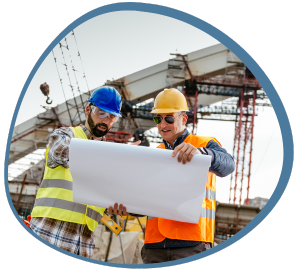 Tips for International Skilled Workers on Landing Engineering Jobs In Canada
🧑🏻‍🤝‍🧑🏾The Different Types of Engineering Jobs in Canada
There are many different types of engineering jobs in Canada, and the type of job you get will depend on your qualifications and experience. Here are some of the most common engineering jobs in Canada:
📈 Are Engineers In-Demand in Canada?
Yes, engineers are in-demand in Canada! In fact, the engineering field is one of the most in-demand industries in the country. So if you're an engineer looking for work, you're in luck! There are plenty of opportunities available for qualified candidates. But before you start applying for jobs, it's important to know what the Canadian engineering job market looks like. Here's a quick overview:
There are four main types of engineering jobs in Canada:

Industrial
Civil
Electrical
Mechanical

The majority of engineering jobs are found in Ontario and Quebec, but there are also opportunities available in other provinces across the country.




 

Most engineers work in the private sector, but there are also many opportunities available with government agencies and non-profit organizations.
📊 The Engineering Job Market in Canada
The engineering job market in Canada is very strong. There are endless opportunities for skilled engineers with the right qualifications.
The demand for engineers is high, and the supply of qualified engineers is low. This means that there are more jobs than there are people to fill them.
Additionally, Canada's wealth of natural resources, which has fueled massive development in several industries, is one of the reasons why the engineering job market in Canada is doing well.
Another reason is that the population is growing, and this means that there will be more demand for all types of goods and services, including engineering services.
The engineering job market in Canada is expected to grow by 4% from 2019 to 2029. This is much faster than the average growth rate for all occupations. This means that there will be many new job openings for engineers over the next decade.
Although do take note, the demand for engineers varies depending on the province or territory. For example, there is a high demand for engineers in Alberta due to the oil and gas industry. In Ontario, the demand for engineers is driven by the manufacturing and automotive industries.
💰 Average Yearly Salaries of Engineers in Canada
Overall, the average yearly salary for engineers in Canada is $83,500 while the starting salary for an engineer fresh out of university is around $55,000 per year. With experience, salaries can increase to upwards of $120,000 per year. The most experienced and in-demand engineers can earn salaries exceeding $250,000 per year.
🛣️ Best Work Pathway to Enter Canada for Engineers
There are many pathways for engineers to enter Canada and find employment. They include:
Federal Skilled Worker Program (FSWP)
FSWP is the most common pathway to Canada. To be eligible for the FSWP, engineers must have at least one year of professional engineering experience and meet the required language proficiency levels in either English or French.
Provincial Nominee Programs (PNPs)
The PNPs allow Canadian provinces and territories to nominate individuals who they believe will contribute to the economic growth of their province.
Canadian Experience Class (CEC)
The CEC is a federal immigration program that allows individuals with skilled work experience in Canada to apply for permanent residency.
To be eligible for any of these programs, engineers must first obtain a valid job offer from a Canadian employer. Once they have a job offer, they can then begin the process of applying for permanent residency.
📑 What are the Requirements to Become an Engineer in Canada?
Note: Potential engineering students or workers who are interested in working in Canada should make sure that they meet all of the requirements listed below. By doing so, they can ensure that they will be able to pursue their chosen career path without any obstacles.
Complete a four-year Bachelor of Engineering degree from a recognized university. In some provinces, you may also need to complete a Master's degree in Engineering.
Pass the Canadian Engineering Qualification Board Exam
This exam is designed to ensure that all engineers working in Canada are qualified and knowledgeable about Canadian engineering standards and practices.
You must be licensed by the province or territory where you intend to practice engineering. Licensure ensures that engineers are competent and ethical practitioners who are committed to protecting the public interest.
🌆 The Best Cities for Engineers in Canada
There are many different types of engineering jobs in Canada, and the best city for an engineer depends on what type of engineering they do. Here are some of the best cities for engineers in Canada:
🛰️ Toronto
🎨 Ottawa
⛽ Montreal
🛢️ Calgary
🛰️ Toronto
A great city for engineers who want to work in the automotive or aerospace industries. There are many large companies with headquarters in Toronto, and it is home to many universities with excellent engineering programs.
🎨 Ottawa
⛽ Montreal
🛢️ Calgary
Engineering jobs in Canada can be a great opportunity for international skilled workers. With the right strategy, you can find an engineering job that matches your skills and experience.
However, it is important to do thorough research before applying or accepting an offer so that it is the best decision for both you and the employer. We hope this guide has helped to shed some light on how to get started with your search for engineering jobs in Canada. Good luck!