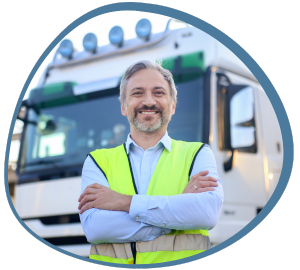 Attractive jobs for New Immigrants to Canada that do not require a Degree
Not all Canadian jobs require a degree. Here are some of your options:
If you are interested in knowing more about these potential jobs, keep on reading.
🎓 Why Don't I need a degree to immigrate and work in Canada?
Canadian immigration is divided into programs (sometimes called streams) with different prerequisites. Some of them do demand a threshold of education (such as Express Entry), but other major streams do not include it as a mandatory criterion (a work permit, for instance). 
In fact, this was one of the reasons for the NOC reform (new National Occupation Classification, Version 1.0). The occupations are now ranked by the TEER group (Training, Education, Experience,, and Responsibilities) rather than the former one based solely on skill level.
In that new perspective one can gain a higher TEER if he has a significant experience in his professional domain that compensates some lacune in education.  A higher TEER obviously means better applicant's scoring, thus more immigration opportunities as long as other requirements are met as language proficiency, job's hard skills and so on. 
💼 What jobs can I get without a degree in Canada?
Canada is one of the countries in which the occupation portfolio is the most detailed and commented. A plethora of 28000 different professions is indexed in the NOC system, led by Employment and Social Development Canada (Ministry of labor and social matters).
Almost 3,000 occupations in this list are classified in TEER 5 and in general , do not require a degree. They encompass a very wide span of disciplines so anyone should easily find an occupation that meets his competences and areas of interest. For example:
💵 What jobs pays you the most without a degree?
You may wish not to relocate to the subpolar territories or go through an everlasting inventory in search for the rare pearl, but before you jump to our starred occupation list, make sure you follow those basic rules during job interviews:
💰 What are the easiest high paying jobs in Canada?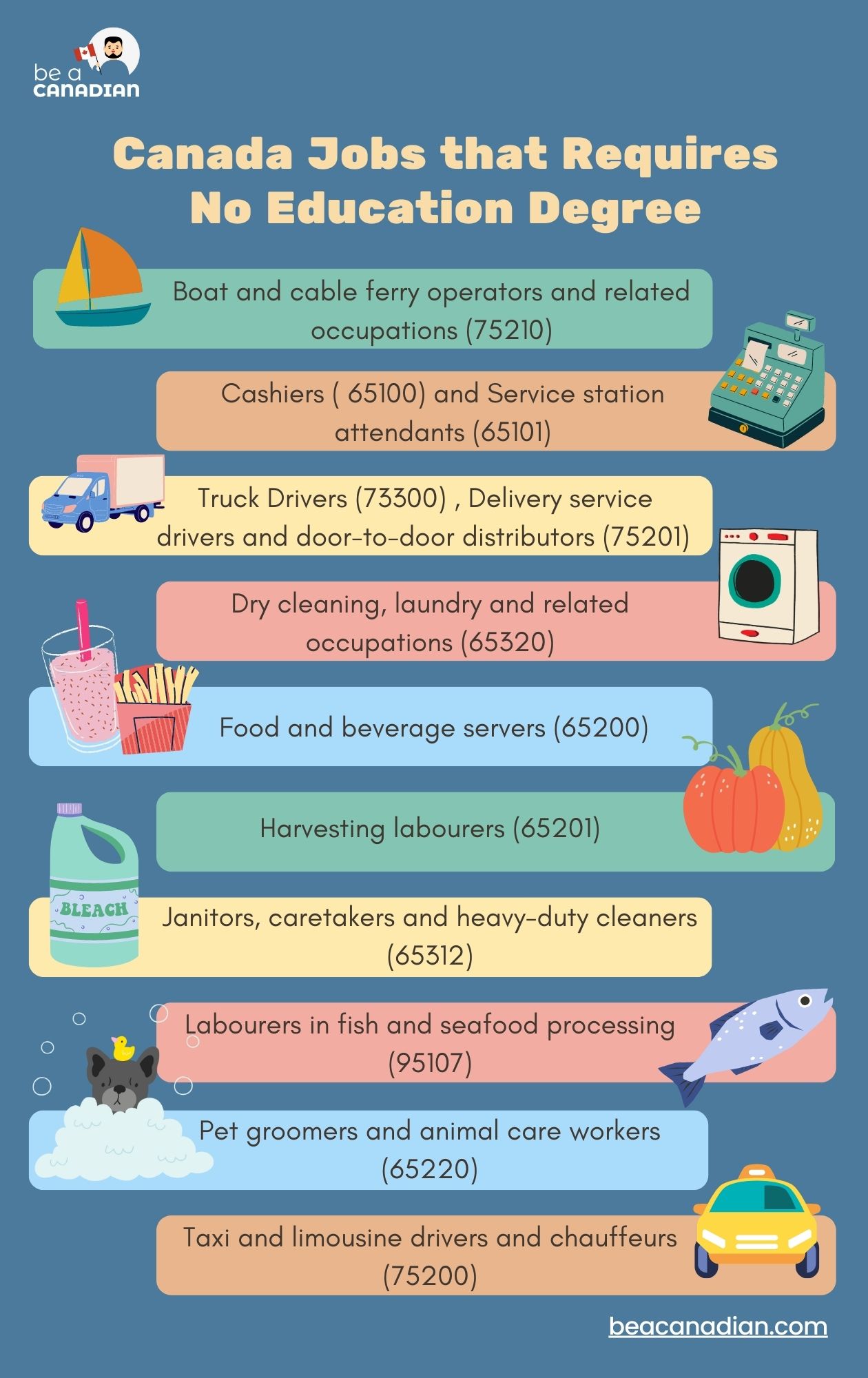 First of all, you need to be aware of the main macroeconomics guidelines that rules any salary proposal:
📈 Demand/Offer Ratio
📊 Salary Variation
💹 Cultural or Historical Salary Profile
📈 Demand/Offer Ratio
The stronger is the penury of offer for the position, higher will be the salary proposed. One of the key occupation in this status is truck and transport driver. According to official federal Job database bank , a penury of no less than 23,000 posts is to be expected for the current decade. 
📊 Salary Variation
💹 Cultural or Historical Salary Profile
🗣️ Basic Tips to Get a Job in Canada
Do not apply for a job if you do not fully master the main language ( Generally French or English or Both) spoken in this community or province.
Be humble , Make your future employer believe you wish to embrace and adopt Canadian culture and values , through social relations , and volunteer to community welfare
Follow the rules for a proper CV in accordance to Canada's standards ( For example -do not join a photo) .
Why does Canada need new immigrant workers?
Immigration to Canada has been a rooted cultural aspect of this welcoming country for more than a century. However, new economic and demographic challenges and projections have completely changed its perception among officials: immigration is nowadays recognized as a primary need. 
In 2021, 23% of the population came from immigration, a new record that topped the 100 years old previous one (22.3% in 1921). 
Today, immigration is the main key to Canadian population growth and job replacement. Projections estimate that 30%-34% of Canadian residents in 2041 will be former or new immigrants.
Immigration has become such a crucial need for demographic reasons as well: Canada is running old, a century ago there was a ratio of 7 workers for 1 retiree.
Today it is merely 3 to 1, and the trend is projected to worsen unless active and noticeable immigration complements it.
For the last five years, 80% of the labor force growth in the country has been considered to come from immigration, a simple yet powerful fact to understand the importance of economic immigration. 
There are many job opportunities available in Canada for new immigrants that do not require a degree. These include jobs in healthcare, trades, and the service industry. With the right skills and training, new immigrants can find fulfilling and well-paying careers in Canada. Don't be afraid – try, apply and you'll find your dream job in Canada!