Work in Canada:
Must-Read Tips for Foreigners
Benefits of Working in Canada
Enjoy Canada's Generous Employee Benefits
Diverse and

Multicultural Environment

for Foreign Workers

High Salaries

and Employee Insurance

Chance to

Become a Canadian Permanent Resident

and Citizen
Take Advantage of Working in a Top-Notch Country
With one of the world's largest economies, Canada is a prosperous nation with a high standard of living. The unemployment rate in Canada is lower than in most other nations.
Maternal and Paternal Benefits
Canada's maternity and parental benefits provide financial help to parents who are unable to work because they are pregnant or have just given birth.
Provincial Healthcare is Completely Free of Charge.
If you've worked in Canada for at least six months, you'll be eligible for free medical care. According to your province's standards, you may have to wait some time before this coverage is available to you.
Additional Work in Canada Benefits
Allowances to cover travel expenses

Free daycare for your children

Reduced rates on gym memberships

Possibility of setting your own working hours

Free usage of a business-related vehicle
Many Business Opportunities for Foreigners
Visa programs for entrepreneurs, investors and startup owners
Strong and fast-growing economy
Plenty of skilled workers to choose from
Many opportunities for growing your business and succeeding
Top In-Demand Jobs in Canada for Foreigners
In recent years, Canada has become a top destination for skilled workers from around the world. With its strong economy and welcoming attitude towards immigrants, Canada offers many opportunities for those looking for a new home. Here are some of the most in-demand jobs in Canada for foreigners.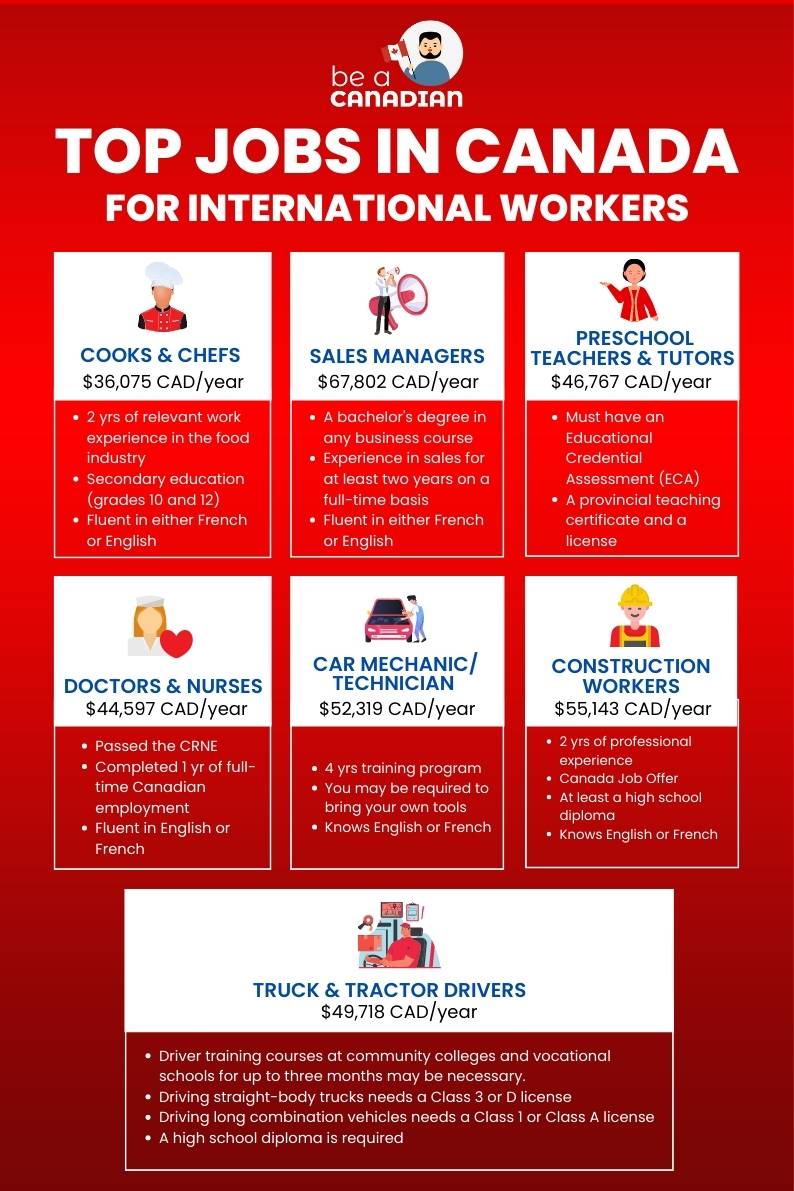 Basic Requirements for Working in Canada
You may start working in Canada this year if you acquire the following requirements:

1. A Job Offer from a Canadian employer
Having an official job offer from a Canadian employer is a must for many visa types and immigration programs. Even if it's not required, it can greatly increase your chances of success.
2. Valid and Correct Documents, including LMIA if needed
The Canadian labor office, or rather ESDC, issues a special permit to the Canadian employer. In many cases, you will need to request an LMIA from your employer so you may submit it along with your application.
Even if LMIA is not required, make sure to provide all other required documents, have them in good quality and make sure none of them is expired. 
3. Filled Out Work Permit Application
You will need to fill out an application for a Work Permit in your country of residence.
Tip: You may speed up your Canadian job search by contacting a reputable immigration agency that can offer you a job search consultant to help you throughout your process.
Types of Canada Work Permits for Foreigners
There are 4 types of work permits (programs, types of visa, etc.) to choose from when it comes to finding the most suitable option for you. Get to know each of them in the following:
Temporary Foreign Workers Visa 🛂
Open Work Permit 💼
Working Holiday Visa in Canada 🍁
Canadian Post Graduate Work Permit 🎓
Temporary Foreign Workers Visa 🛂
Canada's Temporary Work Visas allow you to work for a limited amount of time, which might be a few months or even years, depending on the kind of temporary visa you've applied for.
Open Work Permit 💼
Working Holiday Visa in Canada 🍁
Canadian Post Graduate Work Permit 🎓
The Process of Applying for Work Visas in Canada
Every year, thousands of people from all over the world come to Canada to work. The process of applying for a work visa can be a bit complicated, but this video will help clear things up.
Employment Guide: How to Get a Job Offer in Canada
Looking for an easy-to-follow employment guide (tips, taxes, benefits, etc.)? Follow these simple tips!
📝 Create a Canadian-standard CV
In order to break into a new market, you'll need to construct a professional CV that is specifically targeted at the Canadian market.
🏃‍♀️ Be Proactive and Apply for Many Jobs
Your dream job won't find you on its own. Be active and submit your CV and applications to as many suitable jobs as you can find! Don't get too focused on a specific job title or a specific city. Explore all of the opportunities and then make your choice!
🤝 Create a Strong Social Network
Having a professional social media presence, on Facebook, Twitter, Instagram, or LinkedIn, is essential. Reach out to relevant people, ask career advice and who knows – maybe your next career opportunity will find you online!
🏢 Try Canada-based Recruiting Agencies
Because so much of the legwork is taken care of for you, this is a popular approach.
Recruiting companies are working with both workers and employers in Canada. You may count on them to help you get a job and help employers fill open positions.
🍁 Contact Immigration Consultancies for Help
Because the immigration agency handles every step of the procedure, this is the most straightforward choice.
Immigration consultancies who have job search assistance services can assist you with:
Putting you in touch with employers

Drafting a CV and cover letter for you

Providing advice on how to revise your LinkedIn profile 

Providing feedback on your language proficiency
Frequently Asked Questions (FAQs) About Work in Canada