Canada Welcomes 700,000 New Temporary Residents in Just One Year
As of September 27, 2023, Statistics Canada has released new data regarding the number of temporary residents in Canada on study permits, work permits, and asylum claims. This data reflects a remarkable increase of nearly 700,000 temporary residents compared to the previous year, covering the second quarter of 2023.
Expected Growth Beyond 2.5 Million
It is anticipated that this figure may surpass the 2.5 million mark by the end of 2023.
Challenges in Obtaining Permanent Residency

Temporary residents in Canada, including more than 1 million work permit holders, are facing uncertainty when it comes to obtaining Canadian Permanent Residency (PR). The number of PR opportunities available through Canada's economic immigration pathways is limited and significantly lower than the number of temporary residents in the country.

Annual PR Targets

Canada has set an annual target for all economic immigration programs at 266,210 for 2023, with an ambitious goal of exceeding 301,000 by 2025. Temporary residents must also compete with international talent for the same limited number of PR spots.
Challenges for Temporary Residents
While Canada's flagship program, Express Entry, has a category for individuals with Canadian experience, specific rounds of invitations for this category have not been conducted since 2021. Consequently, many temporary residents extend their stay in Canada by enrolling in study programs or obtaining LMIA-based work permits.
PGWP Extension
The Canadian government has introduced a Post-Graduation Work Permit (PGWP) extension, allowing international students on a work permit after graduation to extend their status for an additional 18 months.
Impact on Permanent Residency

In essence, Canada already hosts a sufficient number of temporary residents to meet its permanent residency targets for the next 6-7 years, assuming no additional invitations are extended to individuals from outside Canada. However, the Canadian immigration landscape has become more competitive, with a focus on granting permanent residency to individuals with experience in occupations facing labor shortages, Francophones, highly educated individuals with several years of experience, and other select categories.
International Perspectives

Internationally, educational consultants are advising new international students to consider alternatives to Canada due to economic slowdown and uncertainties surrounding permanent residency options.
Province-Wise Distribution of Temporary Residents
Ontario stands out with the highest number of temporary residents, approaching 1 million across all categories.
Canada's Population Surpasses 40 Million

The increase in temporary residents has contributed to Canada's overall population surpassing 40 million as of July 2023. More than 75% of the population resides in Ontario, Quebec, and British Columbia, with Ontario alone being home to half of it. Alberta recorded the highest percentage increase in population as of July 2023.
Current Population of Canada
According to the latest official demographic data from Statistics Canada, the population of Canada is 40,097,761.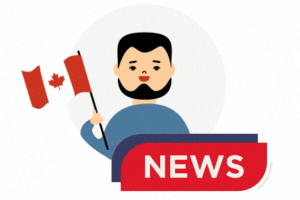 Published on: October 7, 2023